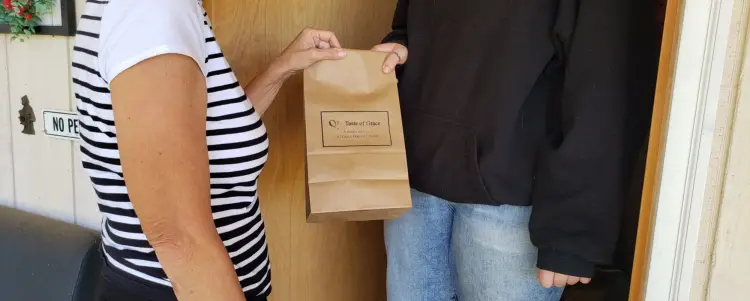 Local Outreach
Jesus made it very clear that when we feed the hungry, give water to the thirsty, welcome the homeless, clothe the naked, care for the sick, and visit the prisoner, we have done that to Jesus Himself. Jesus modeled a care for people that was not conditional on whether they were following Him or not—He cared for them first and commands us to do the same. Our goal in each of these ministries is to meet the needs of our community with the Love of Jesus, showing them by example who He is.

We partner with local schools, organizations, and ministries to join in the great work that God is already doing in our community, and we do that through our Taste of Grace, Brown Bag and Operation Dignify Ministries.
Taste of Grace
Taste of Grace is a ministry which makes and delivers sack lunches on a weekly basis to those who are unhoused and/or those who are not able to provide food for themselves, whether due to a physical, mental or financial situation. The food needs in our community have not diminished, if anything the need continues to grow.

Brown Bag Ministry
"Brown Bag" is a supplemental food distribution program, partnering with Columbia Pacific Food Bank. We distribute food the last Wednesday of every month, between the hours of 1:00 pm and 3:00 pm. from our church site at 58690 Ross Rd., Warren, OR. "Brown Bag" is open to all low income persons or families needing extra help. You may pick up an application at Grace Baptist Church or
Columbia Pacific Food Bank

,
474 Milton Way, St. Helens, OR. 503.397.9708.
Operation Dignify Ministry
Operation Dignify acts as a liaison between Grace and Columbia County Mental Health, the Jordan Center, UniteUs, etc. in providing hygiene kits to these organizations, who in turn distribute the kits to the unhoused in our community. We have an Amazon "wish list" for those who want to contribute various items used in the hygiene kits. It can be found here:
Operation Dignify Wish List